Summer Exhibitions of 2021
Spring has passed quickly in preparation for the exhibitions. The exhibition offer in the summer of 2021 is delightfully abundant all over Finland, and I am already looking forward to it both as an artist and as an exhibition guest. As an artist, I will participate in two summer exhibitions this year, Nature Trip in Nastola and the already traditional Gellaria exhibition in Mänttä, where I am now participating for the third time. I can warmly recommend both sites and I will be heading to them in the summer myself, as I hung both exhibitions at such an early stage that I could not yet see the works of others. Nastola's exhibition is larger than ever and also extends to the surroundings of the former municipal hall. Mänttä's exhibition offer is also exceptionally rich, as in addition to the Gellaria, Serlachius Museums and Mänttä Art Festival, the Realm of Fine Arts will open an exhibition of graduating visual artists in an old store space in the city center. The summer exhibition season will last well into August, but my summer will also include a private exhibition, when my exhibition in cooperation with Galleria Halmetoja will open at the beginning of August at the Helsinki Academic Bookstore. I will tell you more about it later in a separate post.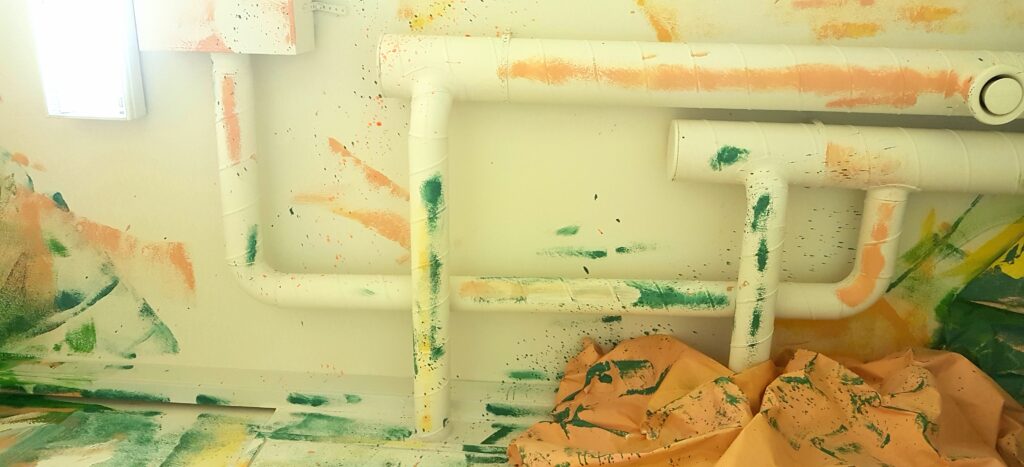 Nature Trip
At the Nastola summer exhibition Nature Trip, I have used an entire room to make a painting installation. I've always enjoyed painting large works, so it was awesome to be able to swing with a roller into an entire room! The final result called You Think I Have a Problem, will be part of the exhibition opening on June 13th. The exhibition is curated by Veikko Halmetoja at the former municipal hall of Nastola at Pekkalantie 5, Nastola. More detailed opening hours, entry fee information and the Artist List can be viewed on the event website via the link below.
Nastola Summer Exhibition 2021
Gellaria
In previous Gellaria's exhibitions in Mänttä, I have called my works three-dimensional paintings or painting installations and this year is no exception. Like last summer, I am utilizing old painting fabrics in my work. This time I'm participating with an istallation called Incubator. The other artists in Gellaria's exhibition are: Pirjetta Brander, Alvi Hatakka, Tiia Matikainen, Pasi Mälkiä, Anna Pekkala, Mika Pettissalo, Radzi, Antti Raitala, Markku "Otto" Rissanen, Raine Sahrman, Paula Salmela, Ilkka-Juhani Takalo-Eskola, Kirsimaria Törönen and Sampsa Virkajärvi. The exhibition opens on June 12th 2021 and the address is Gallery Päivölän Gellaria, Kaivokatu 10, Mänttä. Admission to the exhibition is free. The destination is most likely to be found when looking for a cellar instead of a gallery space.